Bruschetta Chicken Bake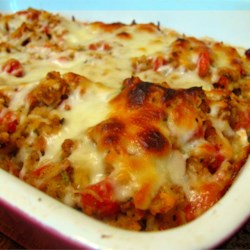 Just tried this last night. It was very good! You mix diced tomatoes in with stove top stuffing mix and place that on top of chicken and shredded mozzarella cheese. 400 degrees for about 30 minutes.
It's funny to read all of the comments. A lot of people tried to add flavorings to get the diced tomatoes to taste like bruschetta. I just bought a tub of bruschetta from our local Wegmans. They have an antipasto "bar" with olives and other goodies, including bruschetta. So I just got some there and used it in place of the diced tomatoes.
I think the only thing I would change is to add some extra cheese on the top. The photo above shows bubbling cheese. But the instructions say that the cheese goes on top of the chicken, and then you cover it all with the stuffing mix.
Anyway, this was fantastic!