If the sample of jamón ibérico I tried in Barcelona last November is anything to go by, then this must be divine.
http://www.guardian.co.uk/lifeandstyle/ ... -ham-jamon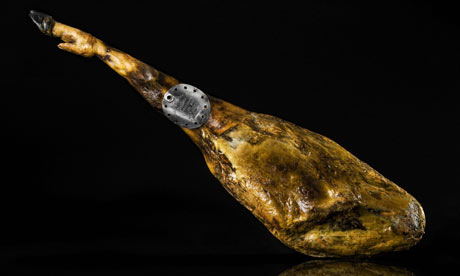 At first glance it looks like another one of those kerrazey stories about the world's most expensive cocktail, which turns out to be crammed full of gold leaf and diamonds, or the similarly bejewelled £22,000 breakfast, but behind the headline, World's most expensive ham goes on sale, is simply the news that you can now procure a very fine leg of jamón ibérico from Selfridges for £1,800.
Which, surely, is not news at all. If you're interested in forking out many hundreds of pounds on good Spanish ham, you can buy a leg of Maldonado ham from the same batch on the internet for £1,322, or this here pata negra from Redondo Iglesias at £19 per 100g. Which only goes to show that Selfridges are selling something that's more cheaply available as "the world's most expensive ham" by bumping up the price.
Aah, but Selfridges' porky offering comes with a DNA certificate in a "hand-made wooden box wrapped in an apron made by one of Spain's most exclusive tailors". Gimmicky? Selfridges food hall? Surely not.
So why mention it, you ask. Well, we love jamón here on Word of Mouth and while we haven't got £1,800, or, indeed, £1,300 spare to buy ourselves a whole leg right now, we are (ahem) kicking off a Spanish themed week with a guide to jamón ibérico by Simon Majumdar (look out this week for recipes, more Spanish themed features and hopefully a live chat with José Pizzaro).
So have a read of the piece, come back and share your love of the pig with us - and post any tips you have on suppliers we don't know about.